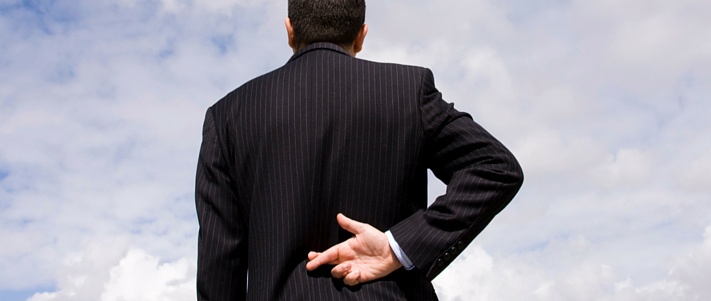 Last week's Supreme Court ruling that 'collateral lies' won't invalidate a claim is a worrying development for the industry. Not just for the precedent it sets but because the widespread publicity it received tells people it's ok to lie to insurance companies.
---
Some lies are ok? The court has created a sliding scale of dishonesty
In this particular case, the owners of a ship had lied about the cause of an accident. It was bad weather that had actually caused the damage – a cause that would have been covered by the policy – and so the Court ruled that insurer HDI Gerling should pay up.
It is worth noting that while the ruling will make a difference to commercial claims, it is unlikely to affect consumer policies, where the approach to collateral lies is already applied by the Financial Ombudsman Service.
But by saying that some lies are ok, the court has created a sliding scale of dishonesty that legitimises misrepresentation. That's the last thing we need.
More likely to lie if they think everyone else is doing it already
Behaviour psychology tells us that people are more likely to lie to their insurer if they think everyone else is doing it already. Our research shows that this is a huge problem at the point of application already.
When we asked 2,000 buyers of car insurance if they'd changed their personal information when getting a quote, 32% answered yes.
---
"When using a price comparison quote to obtain motor insurance quotes, have you ever changed any of your personal information (e.g. name, the number of miles driven per year, where the car is parked, or your claims or convictions."
Yes: 32% of drivers
---
Educating consumers that lies results in higher costs
Many of them lied about more than one thing. 10% said they had used an incorrect address, and 8% had given a false name.
Social stigma and morality doesn't seem to have persuaded drivers that truth is always the best path. But perhaps news that lying hikes up their quoted premium will do.
When we tested insurers by getting a quote using a fake name and address compared to using a real name and address, we found people who use their real information pay £286.54 less for car insurance than people who give fake details.
We also found that telling the truth increases the number of insurers who'll quote by an average of 18. So the truth pays from the start, as well as being the right thing to do.
Unique combination of consumer insight and competitor analysis
Consumer Intelligence has been helping insurers for over 10 years to see the world through the eyes of their customers.
Contact us to find out how we can help you through a unique combination of consumer insight and competitor analysis find and keep your unique competitive space.