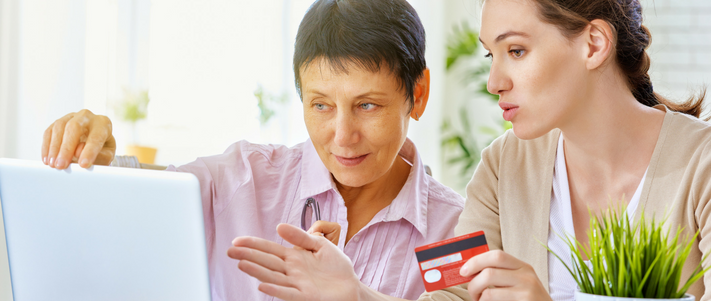 What are the key differences between those who buy their insurance using price comparison websites (PCWs) and those who buy direct? Is there tangible value in targeting consumers more likely to do one or the other?

This is a regular question we receive from clients, and the short answer is yes. Some of the distinctions are well-known: PCW customers are typically characterised by their youth, its brand promiscuity, and focus on price. Our insight confirms that price is almost twice as likely to drive their insurance shopping and buying decisions compared to direct buyers.
The implications for the bottom line are equally well understood. Direct customers are stickier, generate higher lifetime values and help build a valuable, referring customer base.
Whilst recruiting direct also avoids commissions payable to PCWs, the acquisition costs for channels such as PPC, online/brand advertising and outbound telemarketing typically offset, or in some cases outweigh commission-based savings.
So, what else can we glean from the habits and choices of the two groups? A couple of other interesting aspects we see are that customers who buy direct typically stay direct. This segment of customers are more confident and private; for example, a key reason that puts them off using PCWs is they don't want the follow up phone calls that often ensue.
Those who purchase direct are more loyal than those who purchase through PCWs — interestingly, regardless of whether they use one to shop around. Similarly, those who purchase direct are far less likely to shop around. The longer direct customers stay with a brand, the more profound the effect. And if or when they do shop or purchase elsewhere, they are more likely to do so with another direct brand.
This loyalty tipping point — when a direct customer becomes more likely to purchase from a direct channel than a PWC — is typically achieved between years 2 and 3 of their tenure. The curve is steep: the direct purchase rate almost doubles from years 1 to 4, then flattens out at around the 60% mark from years 6 to 10 (see chart 1 below).
Tenure vs. Purchase Channel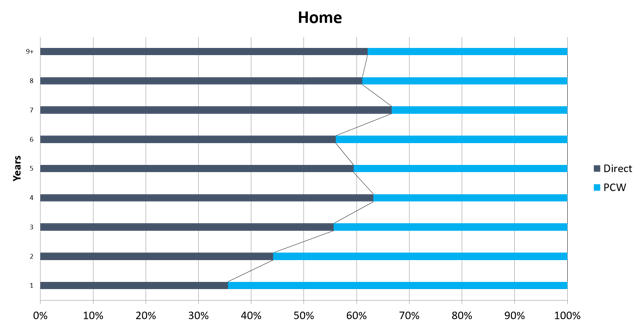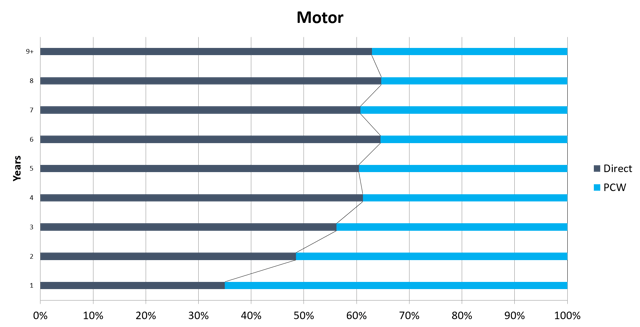 We see a similar picture with propensity to shop, with consumers who use direct-only options more than tripling from their first year after purchase to the ninth, albeit from a very low base of around 5%.
Whether it's for motor or home, direct-only consumers show far greater propensity to buy their insurance based on other factors, usually of a product or service nature, not least having another product with the insurer, or a UK-based call centre.
In summary, it is certainly true that focusing on acquisition through your direct channels can help cultivate more loyal, and ultimately more valuable customers, who are likely to be as receptive to offers based on strength of cover as price-based offers.
At Consumer Intelligence, we have the data and insight to inform clients' acquisition and retention strategies through a number of different lenses, including direct vs PCW users.
The above analysis is at a market level. But understanding your own customers relative performance is the next step. Finally, understanding how you're positioned in the market against your competitors enables you to confirm if you're best in class or uncover the insight to narrow the gap if you're part of the chasing pack.


---
Winners in renewal need strong acquisition strategies
With 84% of motor insurance customers shopping around for other quotes at renewal time there are plenty of opportunities for brands to win new business. This is also the time when retention strategies are put to the test with the threat of losing valuable customers.
Our infographic highlights insights from our research on consumer behaviour at renewal and shows key factors at play in the renewal game.
---